Become a member of the Alvis Owner Club and join a lively club with over 60 years supporting the Alvis marque, its Owners and Enthusiasts.
Pick the Red Triangle to visit our WebCollect membership system

This opens in a new page so that you can choose the appropriate subscription.
The club is an open and friendly place for people of all ages, giving you access to passionate Alvis Owners around the globe with an unchallenged collective knowledge of the Alvis marque from 1920 to the modern day. We have a lively social scene complementing the pleasure of Alvis Ownership and the great pleasure to be had in driving one on the open road.
Events
As a member you will enjoy events run through the regional sections as well as international gatherings:
drive outs
club stands at major car shows
multi day touring events
annual 2 day gathering, typically bringing together over 100 cars from around the world.
sponsored and hosted Noggin and Natters social events round the country, ranging from meetings in London to the North of Scotland.
Publications
The Alvis Owner Club produces two regular publications to inform members and keep them up to date with the Club's activities.
The Bulletin: the Club's bi-monthly magazine which records the activities of the club and provides a wider insight into Alvis cars and their ownership, both now and in times gone by. The Bulletin covers a wide range of subjects, including the history of the Alvis Company, long lost cars, events and reports on AOC business.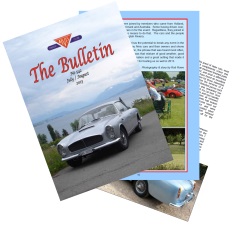 The Calendar: the Alvis Owners Club monthly Calendar of events and events the club has been invited to, classified car adverts, parts and where to find them.
John Lang (Bulletin Editor) writes:
When we look back over past Bulletins, it is obvious that there is a wealth of technical information available on most models, providing mechanical preventative measures, hints on restoration, driving methods and a raft of other matters.
Other benefits
access to the Facebook community
members only section containing the owner's forum
Competitively priced insurance for members of all ages
Access to respected restorers, parts suppliers
Find out more about your car's history through our knowledgeable Model Registrars